InvestorPlace – Stock Market News, Stock Advice & Trading Tips
While Sundial Growers (NASDAQ:SNDL) stock is slightly in the red today, that's the least of shareholders' concerns. Last August, the Nasdaq notified Sundial that it may be delisted if the company's stock price couldn't reach $1 for 1o consecutive days in 180 business days. Well, today marks 180 business days since the Nasdaq notified Sundial.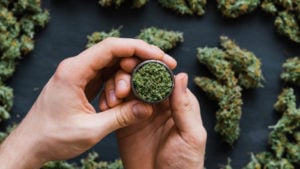 Source: Shutterstock
Unfortunately, Sundial has not been able to reach $1 since August for even one day. In November, SNDL stock hit a high of 96 cents before declining shortly after.
SNDL Stock: Will Sundial Be Delisted Today?
With SNDL stock currently trading in the 50 cents range, it would have to almost double to reach the target price of $1. However, some retail investors are hoping for a last-minute short squeeze, as 22% of SNDL stock is currently sold short. Barring an explosive midday rally, it's safe to say that Sundial will finish today below $1. So, what's next for the cannabis company?
Investors in SNDL stock will be happy to know that Sundial can possibly apply for a 180-day extension period if it meets certain conditions. As of now, there are no updates on the Sundial investor relations page concerning what the marijuana supplier will do. Sundial could also initiate a reverse stock split, although Sundial's lack of communication suggests that its management will not pursue that route this close to the deadline.
What's Next for Sundial Growers?
In the event of a delisting, Sundial will probably trade on the over-the-counter (OTC) market. While nothing will materially change about the company, some investors regard OTC stocks with a negative stigma. This is because one reason stocks trade OTC is because they are facing internal problems. These problems include financial difficulties and compliance issues.
Sundial is also working to close its acquisition of Alcanna (OTCMKTS:LQSIF), a Canadian retailer of alcoholic beverages and marijuana products. As part of the acquisition, shareholders of Alcanna will receive 8.85 shares of SNDL stock and $1.50 in cash for each share of LQSIF owned.
Alcanna operates over 230 marijuana and alcohol retail locations in Canada. The acquisition is expected to provide Sundial with over $15 million of additional earnings before interests, taxes, deductions, and amortizations (EBITDA) on an annual run-rate. Sundial CEO Zach George added that:
"Alcanna's value-focused model in liquor retailing has created market stability, and we believe that the replication of this playbook in cannabis has strong potential to drive a similar result."
On the date of publication, Eddie Pan did not hold (either directly or indirectly) any positions in the securities mentioned in this article. The opinions expressed in this article are those of the writer, subject to the InvestorPlace.com Publishing Guidelines.
More From InvestorPlace
The post SNDL Stock Alert: What Is Going on With Sundial Growers on Key Deadline Day? appeared first on InvestorPlace.